Career Technical Education (CTE) prepares students for a wide range of careers with the academic and technical skills necessary to succeed. CTE is organized at the national level, but allows students to gain hands-on experience in any number of career pathways. These career pathways present a wide range of related career options to our students that can lead to a university, an apprenticeship, work in industry, or any number of other opportunities.
By building their career awareness, our students not only discover their interests and passions, but become empowered to choose the education pathway that can lead to more than financial rewards, but the satisfaction that comes from meaningful work. These careers may require varying levels of education, such as industry recognized credentials, post-secondary certificates, and two or four-year college degrees. In total, about 12.5 million high school and college students are enrolled in CTE courses across the United States.
Lane CTE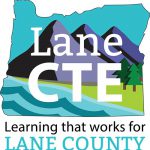 Visit LaneCTE.org for the latest in CTE activities and resources.
CTE Services
Carl D. Perkins Career Technical Education Programs
CTE Staff